People collect many types of things, for many reasons. We have been one of Michigan's top dealers of Byers' Carolers for over 20 years! Come check them out!
Byers' Carolers®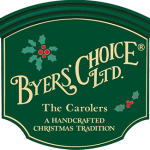 There is no mistaking this wonderful collection of merry figurines as anything other than a delightful keepsake. Produced individually by hand in a small family run plant in Pennsylvania, each Byers' Caroler® is developed from a prototype created by Joyce Byers, the talented artist behind these addicting characters.
The Byers' Choice Caroler® figurines are widely collected throughout the United States and beyond. They are treasured not only as collectibles but for the way they represent a simpler time and way of life. Many have an emotional attachment to the line, and tell us that when they take their Carolers® out during the holidays, it's like having an old friend come to visit.
We keep a vast collection of characters year round, and if you don't see an item you are searching for, we are usually able to quickly obtain it for you!